Media Architecture Biennale 2014
The next Media Architecture Biennale will take place in June 2016 in Sydney, Australia (www.mab16.org). Please note that the information below is regarding the now concluded 2014 biennale.
Architects, designers and artists meet with academia and industry, when the world's premier media architecture event takes place on 19-22 November in Aarhus, Denmark, with a pre-event in Copenhagen. Across professions and nationalities, participants will create and discuss the media architecture of the future. And they will investigate how media architecture shapes people's lives in the cities of the world.
Have a look at the MAB14 Partners
For journalists: See our Press & Media Information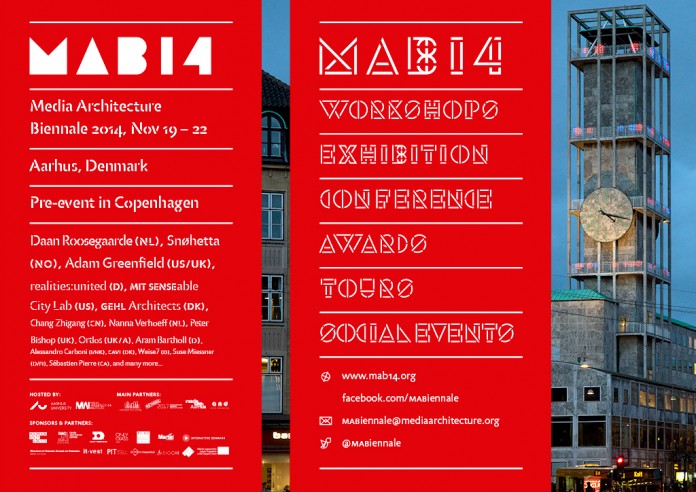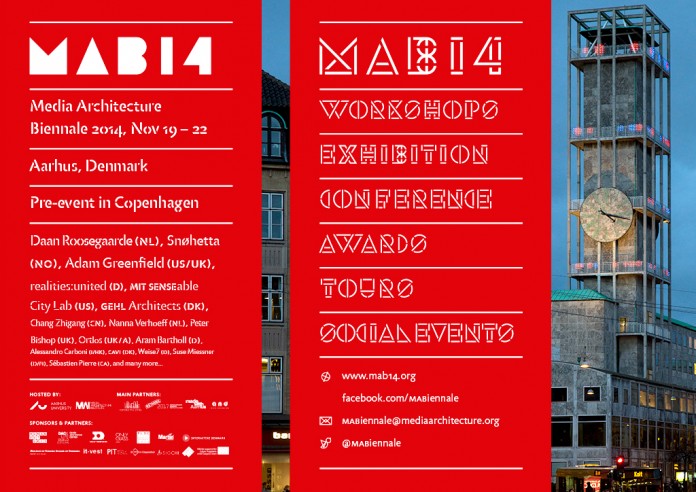 The biennale brings together people and organisations that work with media and the built environment: With media facades, with urban screens and with buildings that communicate – be it with colourful LEDs, flashing light bulbs, or with heat-sensitive concrete that 'freezes' the shadows of passers-by.
Media architecture is an increasingly important digital layer in cities all over the world. It is a part of shopping malls, casinos, digital signs and commercials. And it holds great potential as mouthpiece for public voice and a peephole into the heart of government. The latter is the case when citizen reports and the municipality's case handling are visualized on Aarhus' notable city hall tower during the Media Architecture Biennale 2012. It is also the case, when people in the streets of Berlin are invited to show their own animations using 144 lit-up windows in a central high-rise building, which happened in the iconic project Blinkenlights.
No matter if it is in Aarhus, Copenhagen or Berlin – or in São Paulo, Sydney or Beijing – media architecture augments public space and creates new settings for life in the city. These new settings will be the focus of the Media Architecture Biennale 2014.
One event on many continents
Media Architecture Biennale is a conference, an exhibition, an award show and a number of workshops. It is the world's top experts exchanging ideas and outlining the media architecture of the future. It is representatives from different world cities working with the community, cultural and business potentials of media architecture. And it is leading architects, designers, academics and artists meeting each other and some of the major stakeholders from the industry that provides media architecture materials and technology.
The exhibition features the best and most progressive examples of media architecture, and it spreads out from the main venue Godsbanen to the facades of Aarhus. And for the first time, the biennale expands to other continents, when representatives from the world cities return from Aarhus to present their new ideas at workshops in their home countries.
Previous media architecture events have taken place in Berlin, London, Vienna, Hong Kong, Frankfurt and Beijing. Aarhus hosted the Media Architecture Biennale for the first time in 2012 with participation of Jason Bruges, Ben Rubin, United Visual Artists, Antonino Saggio, Gehl Architects, Bjarke Ingels Group and many more.
The Media Architecture Biennale 2014 takes place at Godsbanen in Aarhus on November 20-22. A pre-event takes place at Danish Architecture Centre in Copenhagen on November 19.
Possible through European Networks
MAB is co-funded by three EU projects:
Connecting Cities is a European and worldwide expanding network aiming to build up a connected infrastructure of media facades, urban screens and projection sites to circulate artistic and social content. The network's topic this year, Participatory City, focuses on interactive technologies that enable citizens to participate directly in artistic urban media projects and let them play an active role in their urban environment instead of being passive consumers. MAB14 is part of the CCN's worldwide activities, a meeting place for its artists and curators.
The project Human Futures: Shared Memories and Visions is an international collaboration between cultural partners in Aarhus, Berlin, Liverpool, Vienna, and Montréal, to produce newly commissioned works that respond to the ways we experience cognitive, networked, living and urban space. Through talks, exhibitions and demonstrations, artists present eight projects at different stages of development. The marketplace is a chance to engage with these works, meet the artists and discuss some of the emergent issues related to our understanding of shared space, pervasive technology and collective action.
UrbanIxD is a Coordination Action project, running from 2013-2014, for the European Commission under the Future and Emerging Technologies programme. This Coordination Action will define a coherent multidisciplinary research community working in the domain of technologically augmented, data-rich urban environments, with particular focus on the human activities, experiences and behaviours that occur within them (Interaction Design).