Residential media architecture
Media architecture has become widely embraced as a new situated, public medium to facilitate aesthetic, entertainment or communicative experiences in the urban environment. Yet, while typical carriers include skyscrapers, malls and government buildings, media architecture is rarely deployed in everyday public environments, such as neighborhoods and residential areas. The social, cultural and economic identity of these environments holds a plethora of information for media architecture to communicate and engage with its surrounding hyperlocal context.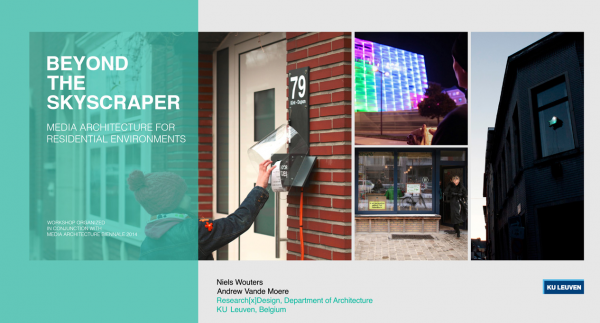 This workshop encourages participants to collaboratively imagine and develop novel scenarios that illustrate applicability of media architecture in residential environments, taking into account the possibilities and challenges that our contemporary urban environments are currently confronted with (e.g. decreasing interpersonal interaction, sustainability, cultural variety). It will provide an opportunity to collaboratively discuss and raise new questions for future research and design practice, such as:
How can traditional media architecture be reinterpreted in a residential or neighborhood context
How can residential media architecture be made usable and useful to stakeholders, such as home owners and architects
During the morning session, participants will explore a residential area in Aarhus, to identify and document possible scenarios for media architecture. As participants report observations and scenarios back, a debate will ensue on the most promising possibilities and most perilous challenges that media architecture in residential environments may be confronted with. In the afternoon session, findings will be further described and materialised by collaboratively developing tangible prototypes, that will be presented through digital collages and/or architectural scale models.
Preparations
Please bring your own laptop and photo camera.
Organisers
Niels Wouters (Research[x]Design, Department of Architecture, KU Leuven)
Andrew Vande Moere (Research[x]Design, Department of Architecture, KU Leuven)
Full-day